seven senses catamaran adventures and culinaric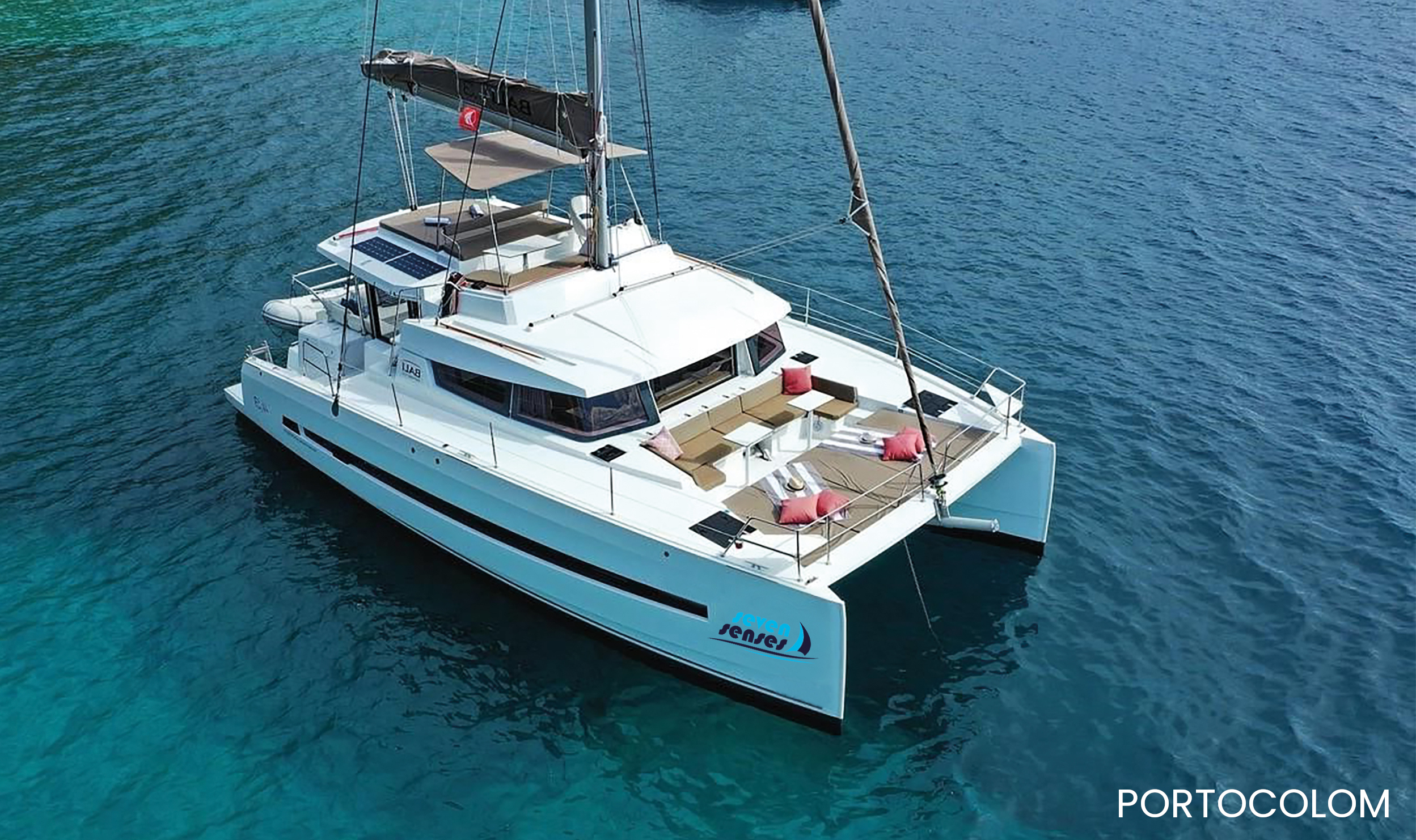 The "seven senses" is located in the harbor of Portocolom. It is the largest and most beautiful natural harbor in the southeast of Mallorca.
Enjoy an unforgettable day with your family or friends on the BALI 4.3 "seven senses".
The BALI 4.3 is characterized by a large salon area with innovative modern design and comfort.
The salon measures 30 m². In case it gets cold, the salon can be closed by a large glass door. This transforms the salon into a cozy enclosed lounge area and offers a 360 degree panoramic view of the sea.
The interior is decorated in modern light colors and natural woods.
With the wind in our sails, we move in a decidedly eco-friendly way!
Technical details and equipment
Dimensions:
Length: 13,10 m
Width: 7,12 m
Draught: 1,20 m
Total usable area: 110 m²
Sail area: 115 m²
Equipment:
2 extra powerful YANMAR engines generator for heating/air-conditioning, TV, own water treatment, underwater floodlights
Comfort flybridge
Lounge area at the foredeck up to 10 persons
648 liter refrigerator and freezer combination with ice maker,gas grill hob, oven LED illumination
1 owner's cabin with bathroom, shower and toilet, air conditioning/heating
2 guest double cabins each with bathroom and toilet, air conditioning/heating
Conclusion: A distinctive luxury independence concept!
I was born in Herford, Germany. I am a textile designer and have run my own successful company for 23 years.
Now I live on probably the most beautiful island in the world.
The island, the people and sailing fill me with a lot of positive energy, passion and happiness.
The passion and the hobby became a profession.
With demand, attention and love to detail I take you on an unforgettable journey.
I will accompany you for a day on the "seven senses" and you will quickly experience what I mean.
Happiness doubles when you share it.
My credo:
Safety – Comfort – Trust – Fun!
Daniela Grünwald
Organization and Service
I am a Carinthian. The last 29 years I lived in Vienna. For 22 years I was the managing director of a marketing and advertising agency.
Now I live on the island of Mallorca. I love the life on the water, the nature, good-humored and relaxed people.
I am your contact person, for questions and wishes gladly there for you. I also accompany you on board.
We combine German precision and Austrian charm in a perfect service.
My credo:
Don't dream your life, live your dream!
DAY-CHARTER for 10 people
DAY-CHARTER
for 10 people
Magic Moments – that will last forever!
Celebrate your event on the "seven senses":
birthday
anniversary
bachelor/bachelorette farewell
engagement
wedding
or just this one day
You can enjoy the day charter for 8 hours.
A unique exclusive atmosphere – pure pleasure.
Comfort in the salon, lounge or on the fly bridge.
The starting time for the day charter is around 10:00 to 11:00.
Here we are guided by your wishes.
Depending on wind and weather, we decide at short notice which bays we will sail to.
You decide how long we anchor in a bay. Water fun is definitely provided.
We have 2 stand-up paddleboards and snorkeling equipment on board. The dinghy also allows you a wonderful walk on the beach.
There is the option to extend this charter.
Additional hour € 200,- each
There is the option to extend this charter.
Additional hour € 200,- each
Charter price 4 hours
€ 1.550,- 
There is the option to extend this charter.
Additional hour € 200,- each
Charter price 6 hours
€ 1.850,- 

There is the option to extend this charter.
Additional hour € 200,- each
The package includes:
Welcomedrink on board
Dinghy arrival and departure to the CAT – Port of Portocolom
Exclusive ambience
Table culture
1 bottle of water and snacks per person
Use of stand-up paddleboards
Use of snorkeling equipment
Book your desired date. You will then be contacted by us via email, where we will send your further information about your booking!
Nebensaison € 1.300,-
Hochsaison    € 1.550,-
Frank Müller S.L.
Carrer Cristófor Colom 63
07670 Portocolom
Mallorca N.I.F B01930619